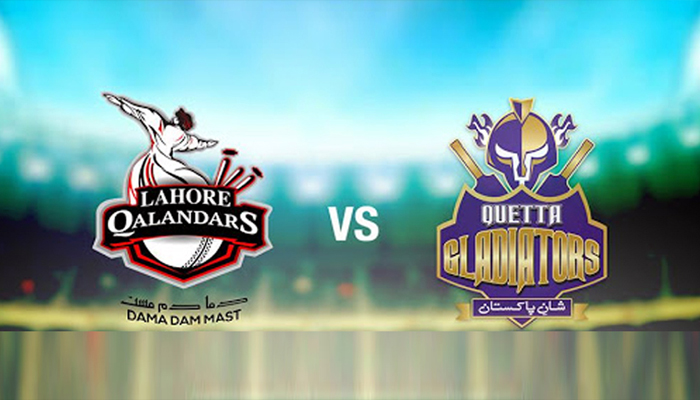 Today will be the 18th match of PSL 2023.Lahore Qalandars performance is excellent in this PSL season while Quetta Gladiators performance is very poor.
Previous Performance Of LHQ:
Brief history of Lahore Qalandars in PSL 8 explains that on 13th Feb 2023(1st match) Lahore Qalandars beat Multan Sultans by 1 runs while in 8th match of PSL Karachi Kings defeated Lahore Qalandars by 67 runs. On 21,26 and 27 Feb Lahore won from Quetta, Peshawar and Islamabad by 63,40 and 110 runs respectively.
Previous Perfomance Of QTG:
When we talk about Quetta gladiators ,their performance in PSL 2023 explains that in the 3rd match of PSL ,Multan Sultans defeated Quetta Gladiators by 9 wickets while in 6th match of PSL Quetta won by 6 runs from Karachi Kings. In the 9th match Peshawar Zalmi defeated Quetta Gladiators by 4 wickets. In 10th and 13th match of PSL ,both Lahore and Islamabad defeated Quetta Gladiators by 63 runs.
Some Facts About Quetta Gladiators :
This team was formed in 2015 by Pakistan Cricket Board. It is owned by Umar Assosiations. Home ground of this team is Bugti Stadium. Its captain is Sarfraz Ahmad and Coach is Pakistan's former wicket keeper "Moin Khan" and Azam Khan is its Manager. Quetta Gladiators won PSL in 2019 and became champions. In PSL 8 captain of Quetta is marvellious Sarfraz Ahmad who is well known for his outstanding performances in various matches of international Pakistan cricket team. He is the most successful captain of PSL as its team Quetta Gladiator was runner up in 2016 and 2017 and won championship in 2019. During ICC championship trophy 2017, he became the 1st pakistani after Imran Khan to win 50 overs title of the world. Quetta Gladiators coach Moin Khan has been remained as a member of pakistani national cricket team from 1990 to 2004.he has more then 3000 ODI runs to his credit and after his retirement in 2005, he became 1st pakistani to score century in domestic T20 game. Azam Khan is the son of Moin Khan. He made his international debut for Pakistan team in month of July 2023. He played for Islamabad United and Quetta Gladiators. He is an experienced wicketkeeper of Pakistan and now got manager seat of Quetta in PSL 2023.
According to PCB, Quetta will play 10 matches in this season of PSL. This team remained 7 previous players in its team. Its team is a very nice, amalgament of old experienced players and young ambitious minds.
Best Players:
It includes Sarfraz Ahmad, Umar Akmal, Jason Roy and Muhammad Nawaz on one hand and Wanindu Hasaranga, Odean Smith, Umaid Asif, Muhammad Zahid on the other. In PSL 8 their performence is moderate uptill now. Let's see what happens in the future?
Some Facts About Lahore Qalandars:
Lahore qalandars team was formed by Pakistan Cricket Board in 2016. Its home Stadium is Gaddafi Stadium and it is owned by Rana Brothers. Its captain is Shaheen Afridi and Director of cricket operations, Aqib Javed is its Coach. Before 2020 they were at the end of the point table of previous PSL editions but performed well in 2020 and reached to the final. In 2021 PSL season they had 5 victories and 5 loses but in 2022 Lahore Qalandars won and became the Champions. They are the current champions of PSL and will try to retain their position.
Our Win Prediction:
There is 90% chance of Lahore Qalandars to win this match.
Stay tunned with us!